In mid-April I went up to Singapore for three days. This was my first time in Asia and the decision to visit Singapore was mainly made because of friends who live there and great airfares on Singapore Airline's budget carrier Scoot.
The flight from Sydney to Singapore left just after midday and arrived almost an hour early around 6.30pm local time. By the time I had collected my bags, cleared immigration, and caught the MRT to my hotel it was quite late in the evening so I had an early night.
The next morning I met up with an Australian workmate who was also visiting Singapore and we explored around Little India.
After getting lost a few times we found a MRT station and headed through to the Marina Bay area which is a complete contrast to Little India. At Marina Bay we met up with another friend at the Merlion and walked around Marina Bay to Marina Bay Sands where we had lunch.

We then headed up to the bar at the top of Marina Bay Sands where I unknowingly managed to purchase the most expensive round of drinks ever. Despite the cost the views and the company were terrific. Continuing our slow amble around the Marina Bay area we came across the Gardens by the Bay.
Doing so much walking in the heat meant it was time for another drink so we headed across to The Long Bar at the Raffles Hotel for a Singapore Sling. After throwing peanut shells on the ground for around an hour we then ventured back into the heat and explored the Arab Quarter.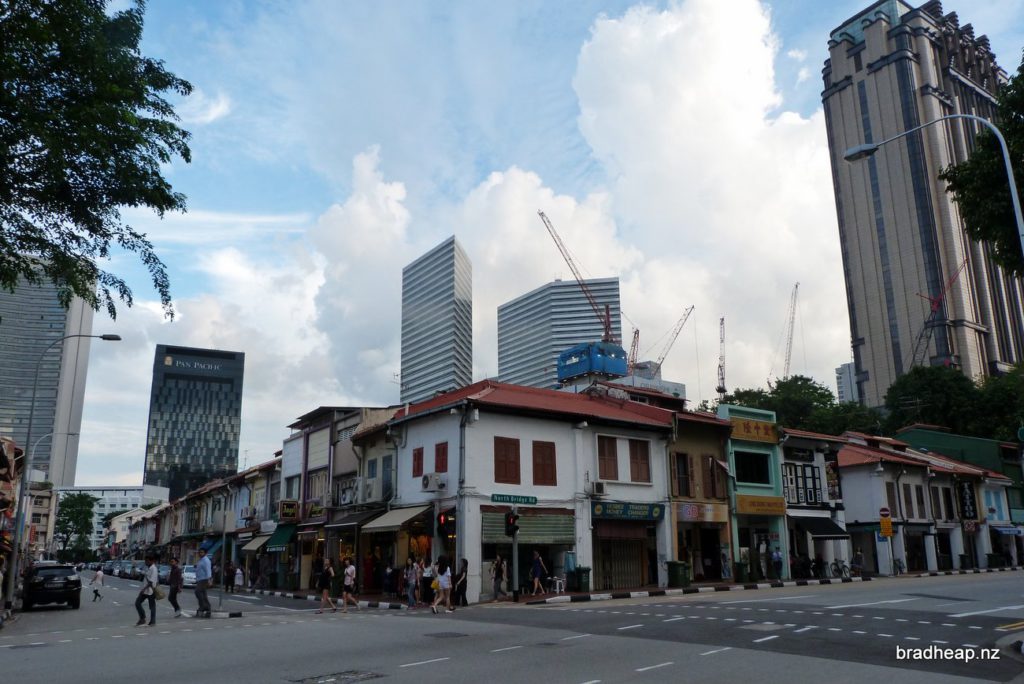 Finally in the evening we headed back to Marina Bay sands to round out the day watching the Wonder Full light and water show.
The following morning I headed out ahead of my friends to walk around part of the Singapore Formula One track. It's always odd seeing street circuits as normal roads or semi abandoned pit areas. The cost of constructing and dismantling the tracks each year must easily exceed the cost of building permanent circuits. But it was also very fun to stand at the front of a driver-less train out to the track.
I then headed to Bugis Junction and had a Singaporean Breakfast. My other Australian friends then joined me and we explored the Bugis Street Market and Sim Lim Square technology mall. We spent the remainder of the day at Singapore Zoo and Night Safari which will blogged about in my next post.
I began my final day in Singapore by walking through Fort Canning Park and then along the Singapore River from Robertson Quay to Boat Quay. After crossing Cavenagh Bridge I then continued through the Downtown area into Chinatown. In Chinatown I found the "famous" Wuerstelstand Kiosk and got some great Currywurst.
From the crowded, hot and cheap markets of Chinatown I then headed up to Orchard Road. After spending hours getting quite literally lost inside malls I then headed to Harbour Front and made my way across the causeway to Sentosa. With the sun setting I rapidly explored some of the island before making my way back to Gardens by the Sea for some night time photos.
With this my visit to Singapore was over and it was time to catch my red eye flight back to Sydney. Overall the trip was a short but fantastic visit to a very interesting city.
A final mention must be made about the service on Scoot. They were absolutely brilliant and I would happily fly with them again. Scoot's planes are brand new Boeing 787-9 Dreamliners and my initial fears about cramped legroom and poor service were proved very wrong. The seats are comfortable and the availability of inflight power means you don't need to worry about not having an entertainment system.