In the middle of 2021 I saw a simple cartoon which was two calendar's talking to each other. The first calendar, 2020, says "I'm the worst year ever", the second calendar, 2021, says "Hold my beer".
In reality it is hard to tell if 2021 was really worse than 2020. In many ways it was the same, in some ways it was better and in others it certainly was worse.
To start with the good, in Australia, we had a decent run from February to May of near normal lifestyles. Early in the year I moved house and, for the first time in over ten years, I have a backyard where I can spend a lot of time gardening and talking to the birds, lizards and spiders. Furthermore, in the later half of the year, we were all able to get vaccines and to travel interstate again.
In the bad column, the lockdown in Sydney was far longer and more restrictive than 2020. And in the mostly the same column, working from home continued, and every time you looked at the news or social media there was some new piece of news to maintain everyone's anxiety.
At the end of 2021 I have pulled back on a lot of my social media usage and I've learnt, in part due to the four month lockdown, that social interaction with people in person is a really vital, and often taken for granted, part of maintaining a healthy life.
Goals for the Year
With regards to the goals I set for 2021, I happily achieved two of them, and the third didn't happen at all.
Read 12 Books
I have read exactly 12 books this year. Almost exactly keeping the pace at one a month.
Of particular highlight was Jason Diakete's memoir "A Drop of Midnight", and the two books on Russian history/geo-politics I read.
Although it isn't a book, I also very much enjoyed listening to The Rise and Fall of Mars Hill podcast produced by Christianity Today.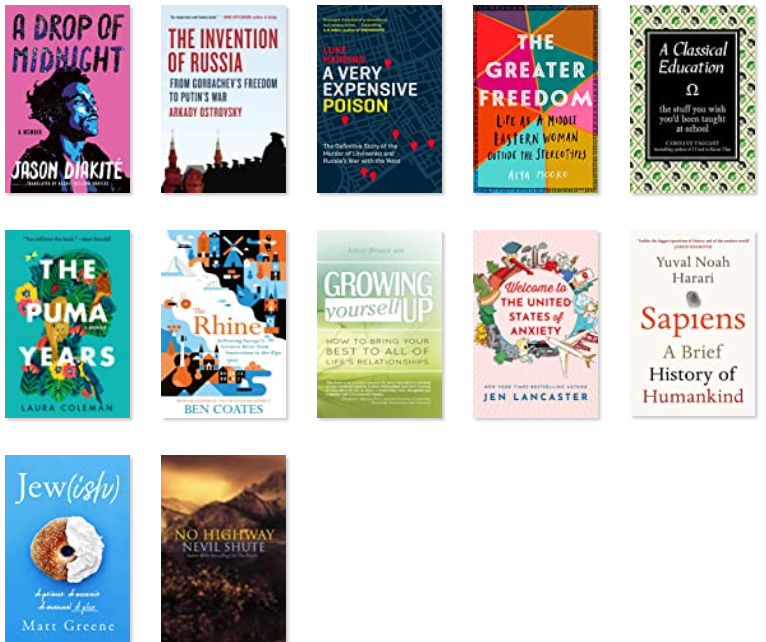 Save 25% of after tax income
Overall I have saved more than 25% of my after tax income. My stock market investments have also grown, with a return of 9% for all my holdings, and almost 12% for holdings which I've had for more than 12 months. Both of these returns are the highest I've had for my investments over the last three years, and well above my original goal of simply beating my cash savings account.
Write a book
Over the last few years, possibly even five years, I've had a rough idea/outline of a book/memoir about growing up and wrestling with faith. Beyond a few draft chapter outlines I haven't written anything in detail. It is likely that this goal will continue for 2022 and maybe even beyond. But I hope that one day it will actually happen.
So what does 2022 hold?
At this point who knows. Once again, another variant of COVID is gathering storm clouds all over the world. But my hope is that we will be able to move beyond the bitter division of opinion that people have held, causing animosity between each other, and between states and countries. Maybe this time next year I will have been able to see my family overseas again, and we will be able to look back on the last two years with grief but also with the knowledge that we have made it through some of the darkest and hardest times in recent memory.